Basil McCrea and John McCallister's new party is NI21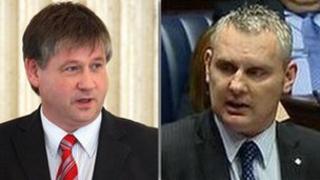 The new political party formed by former Ulster Unionists Basil McCrea and John McCallister is to be called NI21, the BBC understands.
The two MLAs left the Ulster Unionist Party over a decision to field a joint by-election candidate with the DUP.
The new party is to be officially launched on Thursday when the new name is to be unveiled.
But the BBC has discovered that Lagan Valley MLA Basil McCrea has already registered the name as a website.
Documents seen by the BBC show that Lagan Valley MLA Mr McCrea registered the name ni21.org. When you go to that internet address, it states that a new party website is launching soon.
BBC NI Political Reporter Stephen Walker said: "The name is presumably a reference to new politics in Northern Ireland in the 21st century.
"Other research by the BBC shows that one of Mr McCrea's supporters tried to get in contact with the Taiwanese owner of a Twitter account with the same name."
Mr McCrea would neither confirm nor deny the name and said such talk was speculation.
The name and logo of the new party will be unveiled on Thursday.