Added drama for Coleraine to Londonderry train passengers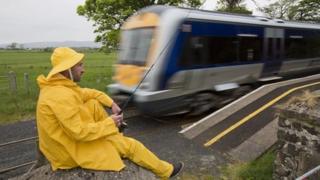 The rail journey from Coleraine to Londonderry provides plenty of dramatic scenery, but this week there is added drama for passengers travelling on the 18:40 service.
The train is being used for a City of Culture performance called The Farmer And The Fisherman.
Audience members are given wireless headphones as they board the train and, as it moves off, a soundtrack begins.
This coastal route offers beautiful views of the sea and the land and, by using the characters of the fisherman and the farmer, the show attempts to explore local people's relationship with the area.
The soundtrack also includes literary, religious and political references.
The show is produced by the 11:18 theatre company, which is based in London.
One of its directors, Charlotte Hodkinson, is originally from Ballymena, County Antrim.
"The idea is about harnessing that feeling when you sit on the train and you look out the window and you have your headphones on and you are listening to music, you kind of go into a contemplative state of mind," she said.
Voices of local people and schoolchildren have been used on the soundtrack as well as professional actors from Northern Ireland such as Paul Kennedy and Lisa Hogg.
Music was also specially composed for the performance.
Ms Hodkinson said the reaction has been largely positive.
"People are perhaps a little bit bemused at first about what they are hearing and what they are seeing. Even if they know this route very well, this is a chance for them to see it through new eyes, " she said
As well as listening to the soundtrack, passengers see actors or signs along the route as the train makes its way to Derry.
Passenger Eily McKearnon said it was a totally new experience for her: "I thought it was quite reflective and very well timed but it was very different to what I expected."
Mary Gwinnell from Sheffield was visiting Northern Ireland with her husband and decided to book tickets for the show.
"Some bits of it I just didn't know what was going on, other bits of it were absolutely superb. I loved the music and I loved the way it connected so closely with the landscape," she said.
Many commuters travelling on the train are not paying for the performance, but still see some of the installations and actors en route.
Ms Hodkinson said many are left scratching their heads.
"People who don't have the headphones are looking out the window and their reaction is almost like 'did I really see that, did that really happen' and that is wonderful and as much part of the show for me as the audio itself," she said.