MLA: name Narrow Water bridge after Parachute Regiment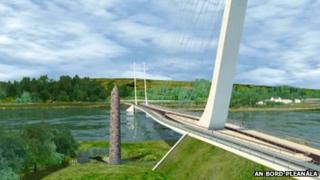 An Ulster Unionist MLA has said the Narrow Water bridge should be called the Parachute Regiment Bridge.
Sam Gardiner, MLA for Upper Bann but originally from Lurgan, County Armagh, said it should be "named after the 18 members of the Parachute Regiment who were murdered there by the IRA".
Mr Gardiner said although he thought building the bridge was unnecessary the name would be a fitting tribute.
The bridge will link County Down and County Louth across Carlingford Lough.
Mr Gardiner said the bridge is "the product of the kind of crazy economics and white elephant projects which Sinn Fein are given to".
Redressing
"It already seems that a play park in Newry is to be called after a convicted IRA terrorist and hunger striker Raymond McCreesh," he said.
"To name the new Narrow Water bridge after the Parachute Regiment would go some way to redressing the offence the McCreesh decision by Newry Council caused the unionist community across Northern Ireland."
Mr Gardiner said that the bridge was not what Northern Ireland's economy needed.
"There is a perfectly good road between Belfast and Dublin a few miles away and the local economy on both sides of the border there does not justify such a costly infrastructural project at this time of cutbacks.
"Still, this is the Sinn Fein technique."
In 1979, an IRA ambush killed 18 Parachute Regiment soldiers in two explosions at Narrow Water Castle.
The Department of Regional Development said the period for objections to the draft orders for the bridge ended on 4 June.
It said the bridge would be privately owned and operated and would not form part of the public road network.