Maternity leave consultation opens in Northern Ireland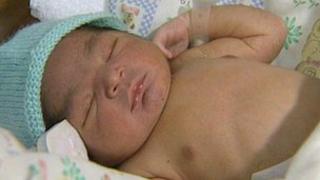 Stephen Farry, the employment minister, will launch a consultation about childcare arrangements in Northern Ireland later.
From 2015 parents across the rest of the UK will be able to split 50 weeks leave after the birth or adoption of a child - it will no longer be available just to mothers.
Parents and business owners are being asked if the scheme could work here.
The department say the proposals will give parents greater choice.
Dr Stephen Farry, said: "These proposals have clear potential to benefit working families, and indeed employees generally, whilst helping employers embed more flexible employment practices that are well suited to the needs of today's changing economy.
"A bill is currently progressing through Parliament that will introduce these rights in Great Britain. It is clear to me that there is a desire for a frank and open debate on working parents' rights in Northern Ireland which takes account of these developments.
"I would welcome the views of stakeholders in order to inform my decisions on whether to follow the UK proposals or to take a different approach."
The consultation period will close on 23 August 2013.