Police 'adopt' feathered intruder at east Belfast station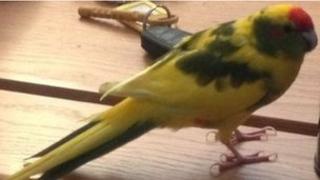 An exotic bird that trespassed on police property has been taken into custody by officers in east Belfast.
A PSNI spokeswoman said they believed that the yellow "parakeet type bird" entered Strandtown police station through an open window on Wednesday.
Having infiltrated the high-security station on Dundela Avenue, the brazen bird has now been caged.
The detainee is being "fostered" by one of the officers while detectives try to track down its rightful owner.
Police captured the opportunistic intruder after they found it "flying around an office" in the building.
'Unafraid'
"The bird described as yellow with black dots and a red cardinal cap appears to have come in through an open window," the PSNI spokeswoman said.
"We believe it is used to being handled as it is very friendly and unafraid of people."
The airborne invasion has ruffled a few feathers at the east Belfast station.
Constable Lesley Stock told the BBC's Talkback programme: "There was a bit of a flap on about what we were going to do with this bird."
"It was being made a right fuss of, so we're not all bad," she said.
Constable Stock added that one of their officers had "fallen in love" with the jailed bird.
"He went straight out bought a cage and it's at his house now," she said.
Anyone with information about the identity or current whereabouts of the bird's owner is asked to contact police at Strandtown on 0845 600 8000.