Van Morrison to perform at Dunluce Castle concert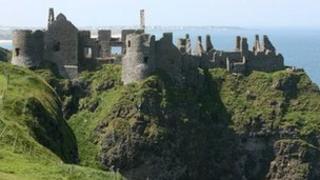 Final preparations are under way for the first concert to be held close to Dunluce castle on the north Antrim coast.
On Friday evening, Van Morrison will be joined by a number of supporting artists.
The ruins of the medieval castle will be lit up for the event which will be repeated on Saturday evening.
The castle will remain open to daytime visitors. Some road restrictions will be in place during the concert.
"It's not right down at the castle, it's a couple of hundred metres from it obviously, but with an area that you can go and view the castle," event manager Nigel Campbell said.
"That's a safer option this year, but next year we're hoping to invest and put it all right down in there.
"You couldn't get a better setting and we hope people just come up enjoy the music, enjoy the scenery, enjoy the atmosphere and go away looking forward to what we hopefully do next year."
While there is evidence that parts of the castle date back to the 14th century, the first record of Dunluce Castle is from 1513 when it belonged to the MacQuillans.
Constantly fought over, it eventually succumbed to nature, falling into the sea on a stormy night in 1639.