NI21 to offer opposition: Basil McCrea and John McCallister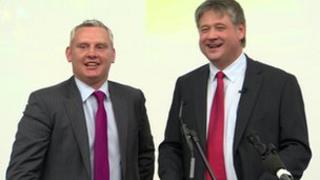 A new political party, formed by former Ulster Unionists Basil McCrea and John McCallister, has been officially launched.
The two MLAs left the Ulster Unionist Party over a decision to field a joint by-election candidate with the DUP.
They said their new party, NI21, would "offer a robust and constructive opposition" at Stormont.
The party supports the Good Friday Agreement and believes Northern Ireland should remain part of the UK.
"We have said repeatedly that as we are required to designate as 'unionist', 'nationalist' or 'other' in the assembly, as a pro-UK party we will designate as unionist," they said.
Critical
"However, we also feel there is a debate to be had about the designation issue and our party will bring forward proposals in the coming months, along with a private members bill for opposition."
Explaining the NI21 name, Mr McCrea and Mr McCallister said: "We believe it is time for a confident, generous and progressive pro-UK party to step forward and build support for a modern Northern Ireland in the 21st century.
"In choosing our name, we aim to build on the Northern Ireland identity and offer voters, as well as those disengaged in the political process, an opportunity to support a new party - a party not tied to the baggage of the 20th century, legacy and conflict."
They said they were determined to represent all sections of the community.
"Democracy itself needs a choice, and Northern Ireland needs a new political dynamic," Mr McCrea and Mr McCallister said.
"For those reasons and for the many people who despair of the political landscape in a place we like to call home, we have concluded that a new political party is required."
However, former Ulster Unionist leader Lord Empey was critical of the new party.
"Neither of them would have been heard tell of, if it wasn't for the support they got from the Ulster Unionist Party," he told the BBC's The View programme.
"They have no mandate to do what they are doing, they are just salami-slicing the vote. I think their efforts should have been within the party."