NI21: A Bridge Too Far?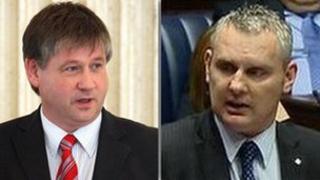 So NI21 isn't a night club or a trunk road, but Northern Ireland's newest party.
It's named for the future and the century we live in, rather than the past and the year of Northern Ireland's creation.
Basil McCrea and John McCallister have at least avoided their first banana skin, by not deciding to immortalise the year their new political project was born.
NI13 sounds just as snappy, but it might put off superstitious floating voters.
Apart from the fact that the new soft unionist vehicle is being launched on the anniversary of D Day, there are a couple of arguments you could make for this being potentially a decisive week in local politics.
The successful passage of Jim Allister's Special Advisers Bill through its final stage may have polarised our politicians.
But it at least illustrated that it is possible for a private members bill to make its way through the Stormont obstacle course, even if one of the major parties is hell-bent on blocking the measure.
The Ulster Unionist Jo-Anne Dobson launched a consultation on a quite different private members bill this week.
Her proposal would move us towards an opt-out system for organ donation.
NI21's John McCallister also considered such a bill on an opt-out system.
Instead he's now working on another measure, intended to provide for an opposition at Stormont.
So could this be the week when the tide of Stormont affairs turns?
It's impossible to answer for certain until we have seen whether the threatened legal challenges against Jim Allister's advisers bill materialise, or Jo-Anne Dobson's bill runs into trouble from those MLAs, such as the DUP's Alistair Ross, who have doubts about changing the law.
As for NI21, the testing time will be next year's European and (assuming council reform remains on track) local government elections.
The new party has hit the political beaches on D Day, but are Basil and John starring in A Band Of Brothers or A Bridge Too Far?