Cancer charity urges NI women to take up smear invite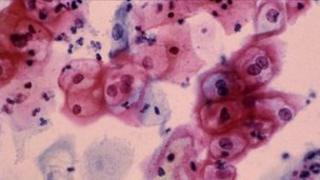 A UK-wide charity is urging women in Northern Ireland to have regular screening tests after figures suggest NI has the highest incidence of cervical cancer in the UK.
Jo's Cervical Cancer Trust said almost one in four women in Northern Ireland did not take up a screening invitation.
The lowest uptake was among women in both the youngest age group - 25-29 years - and the oldest: 60-64 years.
It is concerned that this could lead to an increase in cervical cancer rates.
The charity is using Cervical Screening Awareness Week, from 9 June to 15 June, to warn women that they may be putting their lives at unnecessary risk.
Robert Music, director of Jo's Cervical Cancer Trust, said: "Recent reports point to an increase in women having new partners later in life and this will increase their risk of contracting HPV (human papillomavirus).
"However, even if this is not the case, typically cervical cancer is a slow-growing cancer which usually takes 10 to 15 years to develop, so women who have not been sexually active for some time may still be at risk."
Mr Music said screening was vital as, in the majority of cases, the early stage of the disease is symptomless.
Research by the charity suggests that almost a third of women aged between 50 and 70 believe the test to be unnecessary and irrelevant to them.
Single, separated or divorced women are more likely to have never gone for screening, compared to those who are in a relationship.
Mr Music added: "The charity's research has given us cause for concern which has been compounded by NHS data which shows that 55% of women aged 50-64 with fully invasive cancer had not been screened for at least seven years prior to their diagnosis, compared to only 17% of the general population.
"Where older women feel it is irrelevant for them to attend, in contrast, studies show very different reasons that younger women do not attend. These include embarrassment, fear of the procedure after finding a previous test painful, as well as finding it difficult to book a screening appointment due to a busy working schedule."
In January, Jo's Trust ran an advertising campaign on the side of Belfast buses.
For the next six months, it will be targeting GP surgeries across Northern Ireland with information packs.
Statistics released by Cancer Research UK suggest that cervical cancer rates in NI are higher than anywhere else in the United Kingdom.