Food Safety Week urges consumers to dispel food safety myths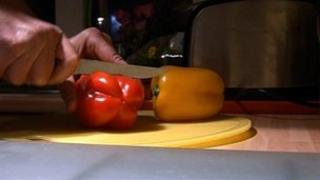 Food safety myths could be putting Northern Ireland consumers at risk of food poisoning, according to a new survey.
The research by the Food Standards Agency and safefood has been released at the start of Food Safety Week.
It revealed misconceptions about food storage, whether food is safe to eat and cooking and cleaning habits.
It said these are confusing consumers and may increase their risk of food poisoning.
Dr David McCleery, from safefood said: "The survey confirms that many of us still hold misconceptions on how we should store, prepare and cook our food.
"For example, two thirds of consumers believe that you can tell whether food is safe by its look and smell. This is not the case, as potentially dangerous germs like E. coli and Salmonella don't always make food smell 'off' and do not affect the appearance of food.
"Instead, we would urge people to stick to the 'use by' date and storage instructions on the packet."
In response to these myths a new kitchen check tool that provides a step-by-step guide to the 'dos and don'ts' in the family kitchen has been launched.
These include not washing raw meat or poultry, fridge storage tips, advice on best cleaning practices and how to ensure that food is properly cooked.
Debbie Sharpe from the Food Standards Agency in Northern Ireland said: "The survey results show that most of us are aware of good hygiene in the kitchen, but can still fall foul of some common misconceptions around food safety.
"For example, two thirds of consumers believe you need to wash poultry before you cook it. This is a myth and by doing so consumers risk spreading harmful bacteria around their kitchen.
"The kitchen check tool aims to dispel the confusion by helping to reassure the consumer that they are handling and preparing foods at home safely by replacing myths with facts."
Food Safety Week runs from 10 to 16 June in Northern Ireland and is organised in partnership with local councils, the FSA in NI and safefood.