Company 'very naive' with £1m loan to Belfast businessman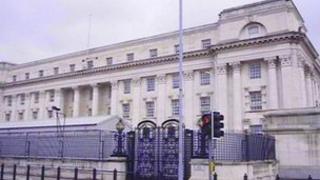 A finance company behaved 'very naively' when lending around £1m to a Belfast businessman, a court has heard.
London-based Aurora Leasing lent the money to Paul Campbell in 2009, with a second mortgage on Mr Campbell's mansion acting as security.
When Mr Campbell defaulted, the mansion turned out to be worth substantially less than its £5m valuation.
Aurora is suing the Belfast office of estate agent Colliers, claiming it was negligent with its valuation.
The mansion, known as Terrace Hill in the Shaw's Bridge area of Belfast, is now valued at just £1.5m.
'The primary mortgage holder, the Bank of Scotland, obtained a repossession order in January 2012 and was owed £2m meaning that Aurora, which is controlled by Michael Gerson, had little chance of recouping its money.
A barrister for Colliers told the High Court in Belfast that there was negligence on the part of Aurora as it had behaved 'imprudently' by ignoring a number of 'red flags' around the transaction.
Aurora's owner, Michael Gerson, said that his firm had done no previous business in Northern Ireland and had only ever carried out one similar transaction that involved secured property lending.
He said that his firm had been introduced to Mr Campbell, who borrowed the money to start an art dealership, by a broker who was a 'pushy salesman' who could 'tend to get a bit enthusiastic' about potential clients.
Mr Gerson said that when the deal was first discussed in August 2008 it seemed that it 'couldn't go wrong' as there was so much equity in the five-bedroom property.
At that time Colliers valued the house at £5m, up from a £4.5m estimate they had given Mr Campbell earlier in 2008.
Various issues then arose with Mr Campbell's other lenders and by April 2009 Mr Gerson threatened to pull out of the deal when it emerged that Mr Campbell had been served with a bankruptcy petition.
Mr Campbell later resolved the bankruptcy matter and Mr Gerson went ahead with the loan having being told by Colliers that the property was still worth £5m.
Mr Gerson said he had relied 'wholly and absolutely' on Colliers' local expertise.
However, Colliers' barrister said that the bankruptcy petition was 'the biggest red flag that anyone could imagine'.
He said that Mr Gerson should have looked into the performance of Mr Campbell's other businesses including the sportswear brand Gaelic Gear.
He said even the 'most cursory checks' would have shown that Mr Campbell would have been unable to repay the loan and that Aurora's lending decision was 'negligent and imprudent'.
Mr Campbell's art business, which was called Rippingham Bristow, quickly got into trouble - it entered three paintings, including a Yeats, into auction but all failed to sell.
In the event Mr Campbell made only two payments before the arrangement with Aurora went into default.
In December 2009, Mr Gerson obtained a fresh valuation of Terrace Hill that said the house was worth no more than £2.5m.
Describing his reaction to learning of that figure, Mr Gerson said: "My hair, what's left of it, was standing on end."
The hearing continues.