G8 leaders become ceramic jugs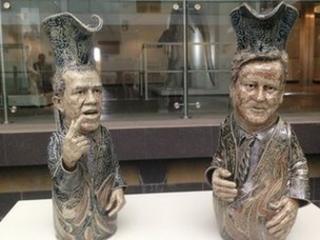 Prime Minister David Cameron has been given a makeover ahead of next week's G8 summit in Fermanagh - in ceramic at least.
Immortalised as a Toby jug he's been glazed in salt along with the other world leaders, including the US President Barack Obama.
Together they make up a display at the Ulster Museum in Belfast.
They were designed by County Down-based ceramic artist, Peter Meanly, who hopes to gift them to the leaders at the conference centre.
"When I heard David Cameron announce in November that he had selected Northern Ireland as the host for the G8, I thought, wouldn't it be wonderful to make them," Mr Meanly said.
The artist said he had spoken to Secretary of State, Teresa Villiers, about the jugs and he hopes that she will see that they are given to the politicians.
"I want the prime minister to present them. This is a free gift from me to them and it will do Northern Ireland a lot of good."
The jugs took four and a half months to make and, unless they're snapped up by the world leaders next week, you can see them at the entrance of the museum.