Ramada Portrush hotel administration details emerge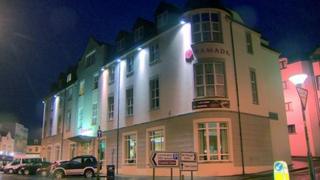 Details have emerged of the events that led the Irish Republic's National Asset Management Agency to appoint administrators to the Ramada hotel in Portrush, County Antrim.
The hotel was owned by North Coast Hotels Ltd, which was part of the Coleraine-based Kennedy Group.
A report from the administrators states that the money generated by North Coast Hotels had been funding 'a significant proportion' of the debt of its parent company, Culzean Holdings.
However the administrators say that in 2011 North Coast Hotels 'ceased contributing in full to the capital and interest repayments' of Culzean that ultimately led to Nama taking enforcement action.
The Kennedy family have previously disputed Nama's decision to appoint an administrator saying they had been keeping up with interest payments and returning surplus cash.
Repayment demand
The administrators' report says that in April 2008 Culzean Holdings bought 100% of the shares of North Coast Hotels and a subsidiary firm, Culzean Properties (No3), bought a development site at the Gasworks in south Belfast.
These deals were funded by £8.5m in loans from the then Anglo Irish Bank, now called IBRC.
The money was lent directly to Culzean Holdings with the two other firms providing intercompany guarantees.
The report says that from 2011 'the bank's debt was not serviced on a full and continual basis' which ultimately led to a repayment demand and then the administration.
The administrators say that Nama will face a 'significant shortfall' on the face value of the IBRC loan when the hotel and other properties are sold.
Smaller creditors will be paid something of what they are owed, though how much is yet to be quantified.
Nama also appointed receivers to a larger portfolio of property assets that had been owned by the Kennedy group, including business parks, development sites and offices.