Craigavon centre to deal with abuse victims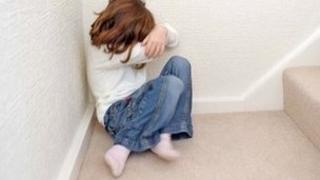 More than 1,000 sexual crimes were committed against children in Northern Ireland in the last year, according to PSNI figures.
One thousand and fifty eight such offences were recorded in the year up to April 2013.
That was up from a figure of 989 the previous year.
Children's charity the NSPCC has opened a service centre in Craigavon dedicated to dealing with sexual abuse.
Professionals based at the centre will work with children and young people who have experienced sexual abuse, providing treatment and support.
They will also work with young people who display sexual behaviour towards other children, in order to prevent abuse before it happens.
The head of the charity in Northern Ireland, Neil Anderson, said: "It is a serious and ongoing problem and the service centre in Craigavon and the services we deliver there, we see that as tackling and responding to this problem."
Caroline Holloway, NSPCC Craigavon service centre manager, said staff were dedicated to helping young people overcome the impact of sexual abuse.
"In light of recent high profile cases such as (Jimmy) Savile and the child exploitation cases in Bradford and Oxford, we are acutely aware that communities continue to be challenged by sexual abuse and its impact on children and families," she said.
"The face of sexual abuse is ever changing but remains as devastating today as it always has been for those affected by it."