G8 summit: Many school pupils get day off due to traffic disruption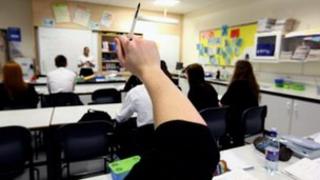 Many post-primary pupils in Belfast are to be given a day off school on Monday, due to concerns over traffic disruption during the first day of the G8 summit.
Several secondary schools in the city are to close to students on 17 June, except those sitting GSCE and A levels.
Meanwhile, the Western Education and Library Board said some schools in its area had asked parents to keep children at home during the two-day summit.
However, the WELB said this was not its policy and schools should stay open.
The leaders of some of the world's major economies are due to arrive in Northern Ireland on Monday for the global summit at the Lough Erne golf resort in County Fermanagh.
During his visit, the US president, Barack Obama, is also due to make his first appearance in Belfast, leading to concerns about congestion in the city on Monday.
Earlier opening
Stormont's Department of Education has issued a circular to schools and education bodies, advising them of contingency arrangements for GCSE and A level examinations on the day "in the event that the major arterial routes become congested".
However, the document does not advise schools to close on either day of the summit.
Instead, the circular advises principals to contact GCSE and A level exam candidates who may be affected by traffic disruption on Monday and to "strongly urge those pupils to make their way to school by 8am (08:00 BST) at the latest".
It also asks principals to "facilitate candidates who may be unable to take an examination at their home school" due to traffic disruption, by making prior arrangements for them to sit their papers at an alternative exam centre.
Schools in the Belfast Education and Library Board (BELB) area have been advised to open early from 07:00 BST on Monday and, "where feasible, to provide breakfast for pupils who arrive early".
Mixed picture
However, several Belfast post-primary principals have informed parents that their schools will be closed to students on Monday, except those sitting GCSE and A level exams.
They include Aquinas Diocesan Grammar, the Royal Belfast Academical Institution, Belfast Royal Academy, Methodist College, St Malachy's College, Dominican College and the Model School for Girls.
But Belfast High School, St Dominic's High School and Grosvenor Grammar will remain open to all pupils on Monday.
There is also a mixed picture in County Fermanagh, with some schools advising parents they can keep their children at home, while others are encouraging staff and students to make their way to school as normal.
But the WELB has said schools and colleges in its area "should plan to be open throughout the period of the G8 summit".
'Business as usual'
In a letter to school principals, the education board said: "The WELB has noted that some schools have written to the parents/guardians of pupils in their schools encouraging them, where possible, to keep their son/daughter at home on Monday 17 and Tuesday 18 June 2013.
"The WELB would wish to re-emphasise that this advice is not in line with the spirit of, 'business as usual', which has been, and continues to be promoted by all the stakeholders involved in the G8 summit preparations."
A spokesman for the Department of Education confirmed that no primary schools in Northern Ireland have asked for an exception closure day on Monday.
Willowbridge Special School in Enniskillen is due to be closed on Thursday 13 June until Tuesday 18 June 2013, inclusively.
Some Belfast post-primary schools have yet to make a decision on closure and others have yet to respond to calls from the BBC.