NI21's Basil McCrea accuses rivals of 'ganging up' over its assembly speaking rights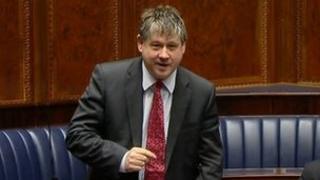 The leader of Northern Ireland's newest political party has accused rivals of ganging up to affect its speaking rights during assembly debates.
Basil McCrea, who along with former UUP colleague John McCallister, unveiled NI21 last week, said it was "old 20th Century politics at its worst".
Mr McCrea spoke out after the Stormont business committee voted to change the speaking arrangements for parties.
It resulted in NI21 dropping six places in the order of party speaking rights.
From 2006, parties with two or more MLAs would be called to speak in the first round of assembly debates.
However, it is understood the Stormont business committee met on Monday and voted to change the system so that in future, parties will have to have five or more members to be called in the first round.
'Self-interest'
It means that instead of being called to speak sixth, NI21 will now be relegated to 12th position.
The change is on an "interim" basis but, in a letter to Mr McCrea, the Speaker William Hay said the assembly's committee on procedures is being asked to "consider issues relating to the emergence of new political parties or groupings during a mandate including speaking rights".
Mr McCrea said: "It would appear that some political parties have ganged up to prevent alternative voices being heard. This is old 20th Century politics at its worst. It is the politics of self-interest, exclusion, and fear.
"What are they so worried about? Why do they feel the need to change a rule that has gone unchallenged since 2006? They are frightened of any opposition, any alternative view and anybody who is prepared to speak out."
Mr McCrea said he was particularly surprised that the Alliance party had voted for the change.
'Secret'
"This is the party who claim to stand for inclusivity. This is the party who during the "flags protest" were very keen to hear from me. This is the party who repeatedly ask for our support in the chamber and in the commission.
"I spoke to the Alliance party leader and their chief whip in advance of the business committee decision, a decision taken behind closed doors. Neither had the courage to tell me to my face before or after that they would use their vote to change the policy.
"Perhaps they hoped their vote would remain secret. People should have the courage of their convictions, they should be open and transparent about it and if you say you are for inclusivity you should be inclusive."
In his letter, the Speaker told Mr McCrea: "I am aware of some of the points you have made on the issue of speaking rights for smaller parties. From my perspective I want to clarify that the speaking list agreed by the business committee is only used for called members to speak in debates and for questions following ministerial statements.
'Time constraints'
"While not all members may be called to speak on debates on private members motions in the time available, you will be aware there are no similar constraints on debates on legislation. All who wish to do so may speak. It is also very rare for members on the list not to be reached within the hour provided for questions to ministerial statements.
"You will recognise that representatives on single member parties are often called during debates on bills, ministerial statements, question time, matters of the day and urgent oral questions.
"I would note that no member of any party can expect to be called for every item of business on which they wish to speak but the chair does attempt to accommodate as many members as possible taking account of time constraints and the composition of the House," Mr Hay's letter added.