Man secretly filmed female shoppers with shoe-mounted camera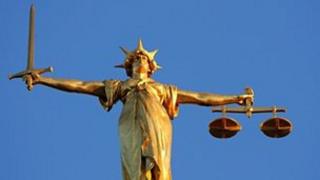 A man took pictures of unsuspecting female shoppers with a shoe-mounted mini camera, a court has heard.
Jonathan Alfred Gibson, from Central Promenade, Newcastle, County Down, came undone when a suspicious male shopper reported him to security staff at Forestside shopping centre in Belfast in May last year.
Gibson, 37, admitted to 'upskirting' when he was arrested a few days later.
Gibson was put on probation for three years at Downpatrick Crown Court.
Judge David Smyth QC told Gibson he believed the extended supervision was in his and the public's best interests.
He also banned Gibson, until further notice, of having any phone that could take pictures or any miniature camera, to further reassure the public and to prevent any repetition of Gibson's offending.
Judge Smyth said that while his vulnerable victims were unaware he was photographing up their skirts and dresses, Gibson, whose motivation was 'clearly sexual', had invaded and violated their privacy and peace of mind.
He added that Gibson's admitted 'outrage of public decency' was of public concern, particularly to women who should be able to go shopping without fear of being targeted by people like him.
The suspicious shopper spotted Gibson, a driving instructor, targeting females on an escalator.
Secret camera
A prosecution lawyer said that Gibson was captured on CCTV footage at Forestside, targeting women wearing either skirts or dresses.
He added that after following one woman travelling up the escalator, he waited around for another unsuspecting female to make the trip back to the ground floor.
The court was told that Gibson, whose secret camera was located in the laces of a shoe, was spooked, and, suspecting he was being watched by security staff, left the centre to return to his silver-coloured Ford car.
However, he was easily identified from the livery on the side of the vehicle advertising his Johnny's Driving School.
When arrested a few days later at his home Gibson 'candidly accepted' he had been wearing the camera.
In later statements Gibson said he did not know why he had done what he had, but that he was 'embarrassed and disappointed with himself'.
A defence lawyer said that Gibson's driving business had virtually been wiped out.
It had also put strain on his wife's business, which had received abusive emails.
He added that it could not be said Gibson, who was disgusted with himself, was 'caught bang to rights' as there had been no evidence, save his confession, to his 'upskirting' as it is called.
Gibson has been receiving counselling through his church, his lawyer said, and had destroyed the offending material on his way home.
This prompted Judge Smyth to ask did he do so because he suspected he'd been caught, or because of the realisation of what he had done.
Later when sentencing Gibson, the judge added that he thought 'it much more likely' Gibson suspected he had been spotted and had destroyed the evidence, the sim card in the camera.