Lizard numbers 'devastated' by arsonists in Belfast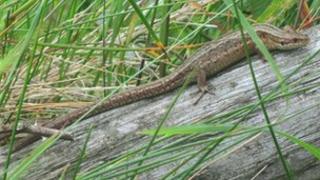 A newly-discovered population of lizards has been "devastated" by arsonists setting fire to Cave Hill, according to the Belfast Hills Partnership.
The environmental group has been monitoring lizards at the wildlife site, known as the Limestone quarry, for several months.
They say many were lost when a fire began in the area last week.
The viviparous lizard is the only land reptile native to Ireland.
Small and brownish-grey in appearance, the species gives birth to young which have hatched from eggs inside the female.
Mountainous, coastal and bogland areas tend to report the highest numbers of sightings.
Belfast Hills Partnership manager Jim Bradley expressed dismay at the damage that was caused during the gorse fire on 5 June when a large plume of smoke could be seen on the hill and over north Belfast.
Mr Bradley said: "It was only this year we began to monitor this site for lizards that we discovered on the southern side of Cave Hill.
"We have definitive proof of what had been there, but we can now compare figures to see the impact, which is quite substantial, given the area covered, severity and extent of the blaze.
"Heat is very important for lizards and given that the old quarry is south-facing and a sun trap, it is also a good place for butterflies and nesting birds. Hopefully we will see the unburned area of this site recolonised by the lizards.
"This won't put us off future monitoring and finding out the wildlife value of the hills. Therefore we repeat our message for people to be vigilant - 10 or 15 minutes can make all the difference between a small burn and a large fire in an upland area."