G8: Cameron's pride at 'extraordinary' Fermanagh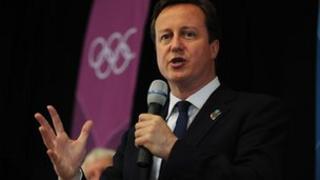 Prime Minister David Cameron has said he is "really proud" that the G8 summit is being held in Northern Ireland.
Mr Cameron said: "Frankly, 10 years ago, 20 years ago, it would have been unthinkable to hold a G8 in Northern Ireland, in County Fermanagh.
"I'm really proud that we're taking the G8 there to showcase this extraordinary part of our country."
Leaders from eight of the world's most powerful countries gather at the Lough Erne resort on June 17-18.
Mr Cameron, who was speaking at a briefing for the foreign press, added: "Northern Ireland's prospects have been transformed by the peace process in the last 20 years, and I think we'll be able to show the world this is a modern and dynamic part of the United Kingdom.
"It's open for business, open for investment, a great place to visit.
"So I'm looking forward to welcoming the world there, an extraordinarily beautiful place but also with wonderfully talented people."
When asked if it would be safe enough for himself and other leaders to play golf or go fishing during the summit, Mr Cameron replied: "I think the issues around golf and fishing aren't so much to do with security as re-electability.
"But I think I'll be able to say to other members of the G8, and of course all of you... is make another trip and get back to Fermanagh and go and see the Giant's Causeway, go and see some of the amazing sights of Northern Ireland.
"I think it will be a great showcase for this part of Northern Ireland that people don't know very well - I hope the eyes of the world will have a good look and like what they see."