A5 community group considering legal action over delays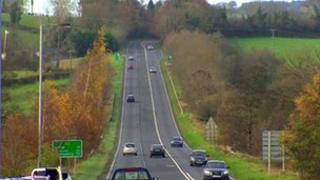 A community group campaigning for work to begin on the A5 road is considering legal action against the Department for Regional Development (DRD).
The High Court blocked planning permission for the £330m project as a proper environmental assessment of the work was not carried out.
The DRD Minister said his department would not challenge that ruling. The road is now facing an indefinite delay.
However, a campaign group said the delay is causing distress.
Action for the A5 spokesman, Professor Pat Darcy said they had not ruled out the possibility of legal action.
"A lot of our campaigners have lost relatives on this road - the controversy and delay is bringing back memories and causing a lot of distress to them.
"We wouldn't want to take legal action to further delay the project, but firstly we would like a timeline from the minister of how long this delay may last," Professor Darcy said.
In a statement the Regional Development Minister, Danny Kennedy said: "whilst lobby groups both in favour and against the A5 roads scheme seek to make their case, the department will work through processes outlined by Mr Justice Stephens with no pre-judged outcome.
"Consistent with my approach on this matter, I am happy to meet with the group."
Professor Darcy said the group had asked for a meeting with Danny Kennedy over five weeks ago.
"He still hasn't but if he would meet with us then we would appreciate that, especially if he can give us some kind of timeline," he said.
"This project has been going on for 5 years now and £35m has been spent on it so we'd hope he'd have some clear idea on what will happen."
"We're not ruling out that some relatives themselves may wish to take legal action but as far is the group are concerned we just want to get the road back on track.
"It's a health and safety issue for the people living on an around this road."