World Police and Fire Games will not meet 10,000 target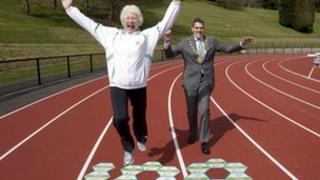 The organisers of the World Police and Fire Games in Belfast have said they will not meet their target of 10,000 competitors at this summer's event.
At most, only around 70% of the expected number of participants are likely to be at the August games.
So far, 5,842 athletes have registered for the games, which are expected to cost £13.8m to stage.
Organisers said a number of teams are holding places and they expect the final number to exceed 7,000.
A total 64 countries have registered with 32% of those registered coming from USA, Canada and Australia.
The event was billed as one of Northern Ireland's biggest ever tourist events.
John Tully, chief executive 2013 World Police and Fire Games, said: "This is the largest sporting event ever hosted in Northern Ireland. We expect the numbers of athletes participating to be over 7,000.
"The World Police and Fire Games has only been held outside North America on four occasions and this year marks their first time ever in the UK.
"To put the numbers in context, the Adelaide Games in 2007 welcomed 7,500 athletes whilst Stockholm had 6,600 competitors.
"In a wider world sporting event context, the World Police and Fire Games in Northern Ireland will host more competitors than any previous Commonwealth Games. Registrations continue to come in on a daily basis and will do so right up to the 1 August.
"With just over seven weeks to go we are very pleased with the milestones already reached and are well on track to deliver the friendliest games ever."
Sports Minister Carál Ní Chuilín said: "Alongside the 56 sports events, our visitors will have the opportunity to enjoy an exciting cultural programme which is being developed to showcase our rich music and arts landscape."
The King's Hall in Belfast has been selected as the venue for the opening ceremony on 1 August. Details about the event and how to apply for tickets will be announced shortly.
A total of 41 sporting venues are confirmed including the new £38m Bangor Aurora Aquatics and Leisure Centre, County Down, with its 50 metre pool and the newly refurbished eight-lane Mary Peters Track.
The closing ceremony will be held at Titanic Slipways.