Arlene Foster: 'no regrets' over Londonderry 'whinging'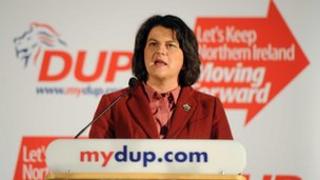 Enterprise Minister Arlene Foster has said she has 'no regrets' over comments she made about Londonderry 'whinging and moaning' over investment.
She stood by her remarks and said they were made in the heat of a debate at Stormont out of frustration at people not promoting the city positively.
The enterprise minister made the comments in response to a question from fellow DUP MLA Gregory Campbell.
Derry continues to top Northern Ireland's unemployment table.
Earlier this month, the minister had asked the assembly how areas expected to attract investment "if they're whinging, if they're complaining, if they're saying that nobody ever bothers about us?".
"Or do they think that there's a better chance if they talk about the benefits, the skills, the people, what is happening in their particular area, do they think that's a better way possibly to get international investors to come and look at their city?" she said.
Speaking on Wednesday, Mrs Foster said she hoped the message people picked up on was to "be positive about your city".
"I suppose I got a little bit frustrated because this city has so much potential and I want to see people selling this city in such a positive way," she said.
"Look what happened last weekend with the return of Colmcille. That's what I want to see coming out of this city - good positive news stories so that people will be interested and come to the city and invest in the city.
'Selling the city'
Mrs Foster also praised the work Invest NI had put into attracting investment to the north west.
"Invest NI have been putting the shoulder to the wheel bringing their international sales team to the city, going to the Guildhall in London, really selling the city as a good place to invest in," she said.
"We don't say to investors 'you must go to Belfast', 'you must go to Londonderry', or to Fermanagh for that matter. We can't do that because investors must decide for themselves where they want to locate their businesses, and they do that on objective bases, they look at the skills available to them.
"They look at is it a good place to live and work, what is there to do at the weekend, what about the education for children.
"What I want to see is investors coming to this city for all of the right reasons and that's how we sell the city. I believe in this city and I love this city. I've been here more than any other minister I think and I'll hopefully, if they allow me, continue to do that."