Margaret Telford murder accused Samuel Dunwoody had convictions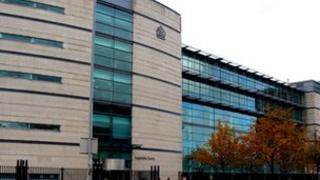 A man accused of murdering a pensioner in her home 25 years ago has a string of convictions for violent crime, his trial has been told.
Margaret Telford, 68, was found strangled in her home at Twaddell Avenue, Belfast, on 4 February 1988.
Samuel Dunwoody, 52, originally from north Belfast but with an address in Birmingham, denies her murder.
The trial was told that Mr Dunwoody has convictions for assault, causing actual bodily harm and battery.
The convictions were between March 1982 and June 2009. They included attacking the same woman three times.
Prosecution counsel said in one incident in September 1985, Dunwoody "grabbed a woman by the throat with one hand and put his other hand over her mouth" and that after he left her house, she found that her purse had been stolen.
The prosecution case is that Mrs Telford died between 2 and 4 February 1988 and had sustained a series of injuries consistent with her attacker having assaulted her about the face, neck and chest, and an injury to the back of her head caused by her falling after being struck.
The attack had left bruises along her jawline and neck and a chest fracture, and the conclusion of the then state pathologist, Prof Thomas Marshall, was that the death had been caused by strangulation.
A defence counsel told the court that Mr Dunwoody would not be giving evidence on his own behalf and confirmed that he had been advised that the jury "may draw such inferences as appear proper from his failure to do so".
Sending the jury home for the weekend, Judge Philpott told them they would hear closing speeches from prosecution and defence lawyers on Monday before she directs them on the law but warned them "not to be making up your minds about anything until you have heard absolutely everything".