A G8 presenter's best friend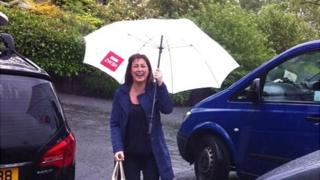 Ahead of an event like the G8, I will do my research and read up about the personalities involved, the planned protests, the officials' logistical preparations.
But there are other very important elements that help in a successful outside broadcast - good shoes! I kid you not!
If your feet are dry and comfortable you will tolerate whatever the weather or the producer can throw at you.
That was certainly the case during Friday's broadcast from Killadeas in County Fermanagh when we were battered by wind and rain.
Since my last major outside broadcast, when the Queen went to Dublin and Cork, I have become more accustomed to social media.
This week, during the G8, I will use Twitter, @bbcnewslineDT, a lot more to keep in touch with what's happening.
It is another conversation and, as with any other broadcast, I need to listen as well as talk.
In Enniskillen, on Monday I first go on air at 13:30 BST on BBC One but will be at our location well before that.
Because of security and possible traffic disruption, I will be in position from about 08:00 BST.
The team in the satellite vehicle will arrive much earlier.
With extended news at teatime and in the evening, it will be a longer day than normal for the production team.
But there will be a steady supply of tea and biscuits to keep up the sugar levels.
I am very excited about this important event and I will love being in the thick of it.
The adrenaline rush ahead of, and during such a broadcast, will keep me on my toes, prepared for whatever happens while BBC Newsline is on air.