G8 protesters cross outer perimeter of Enniskillen summit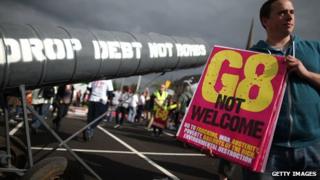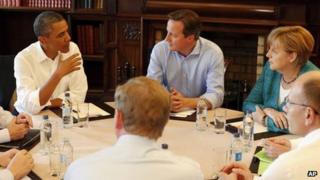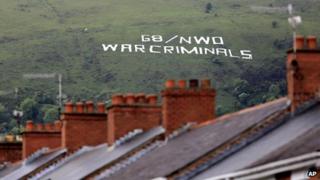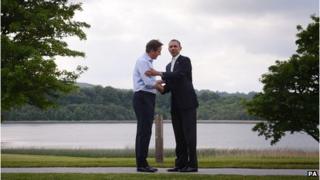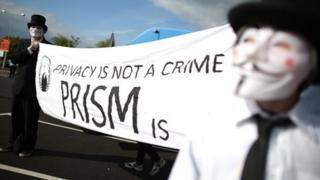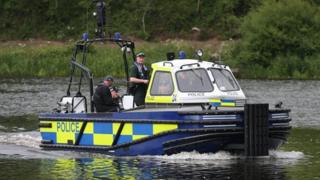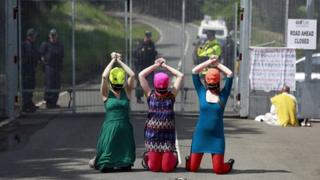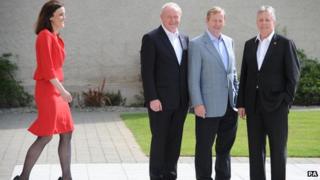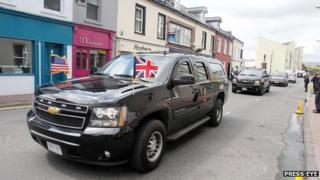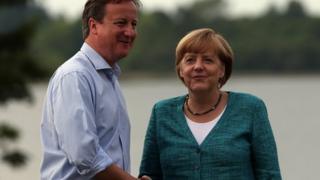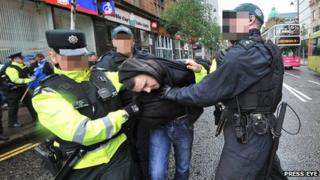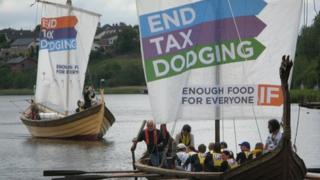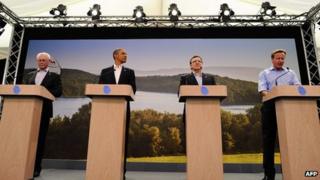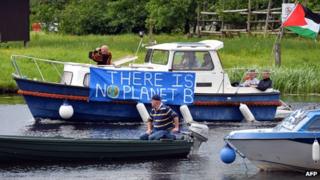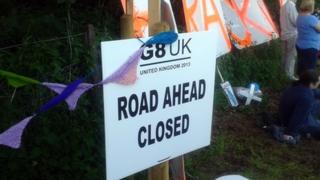 A small number of protesters briefly crossed the outer wire perimeter at the G8 summit at Lough Erne.
Riot police assembled in the field and warned the protesters not to pass the next barrier and they dispersed.
Hundreds of protesters marched to the fence from Enniskillen, County Fermanagh, on Monday evening.
Groups protesting against fracking, tax evasion and world hunger took part in a good-natured, six-mile G8 Not Welcome march.
All the G8 leaders - from the US, UK, France, Germany, Italy, Japan, Russia and Canada - are in Northern Ireland for the summit.
Dozens of onlookers stood in shop fronts and at pub doors in Enniskillen town centre as the noisy but good-natured spectacle passed by.
Many demonstrators were keen to highlight their causes.
'Unfair system'
George Tzamouranis, 48, from Greece, who was brought up in London's Wimbledon and is now living in Belfast, said he had turned out to express his anger.
"I'm angry that capitalism is an unjust, unfair system," he said.
"My sister is a stock market analyst, and is immensely wealthy, yet I've been out of work for 25 years."
Mr Tzamouranis said he had graduated with a degree in Oriental languages, but had been unable to get a job with his education other than casual shift work and remained a victim of capitalism.
"I've been living on the ragged edge since 1991," he said.
Caoimhin Ó Machail, 66, from Dungannon, County Tyrone, said the decision to hold the summit in Northern Ireland was unforgivable.
"It is capitalism gone crazy," he said.
"The money they are spending on it is obscene - why don't they throw them into the desert and let them get on with it?"
Frankie Dean, 50, from Ballinamallard, County Fermanagh, said he wanted to speak up for gay and transgender people being persecuted in Russia and Northern Ireland.
"Obama and Cameron support equal marriage and have done a lot for the LGBT community," he said.
"But Putin and the Russian people are doing bad things to LGBT people. I want to highlight that.
"Also while equal marriage is coming into the UK and other countries, it is not in Northern Ireland - and that is because of religious influences.
"I want those in government to come away from these influences and respect people's rights."
'Instigators of austerity'
Elsewhere James Pellatt-Shand, 42, from Canterbury, Kent, said the turn-out was less than anticipated and blamed protesters being scared off from travelling to the area, but said he was delighted with the carnival atmosphere.
His main concern was global hunger and poverty, which he claimed could be easily solved with a bit of goodwill between the rich nations.
"But I think they'll be more likely to discuss how many weapons to give Syria than how many children are going to bed hungry," he said, criticising big companies who avoid tax in developing countries.
"They are just stealing the food out of poor people's mouths."
Anti-austerity campaigners from County Donegal wore giant-sized heads of German Chancellor Angela Merkel, Irish Prime Minister Enda Kenny and Irish Foreign Minister Eamon Gilmore, whom they accused of being her puppets.
Charlie McDyer said: "They are the instigators of austerity in Ireland. They have no consideration for anyone in this country apart from the elite."