Street protest and street theatre in Fermanagh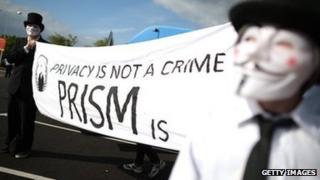 It was labelled as a protest, but it had the distinctive look of a fancy dress party.
As the G8 leaders held discussions inside the Lough Erne resort, members of the public gathered to walk to the barriers that surround the summit.
The protesters met in the centre of Enniskillen wearing costumes and masks. When they marched they carried posters, flags and even blow-up pigs.
They all hoped that their street politics would make some kind of impact on the presidents and prime ministers.
What was immediately obvious from the signs they held was that the G8 summit was being used as an opportunity for people to campaign on a whole range of subjects.
From fracking in Fermanagh to the conflict in Syria and from capitalism to cuts. This march reflected worries both close to home and far abroad.
However, most of the protesters who journeyed to Enniskillen to spread their message had not travelled far. The vast majority were from the island of Ireland. They reached the barrier to hear a variety of speeches on the disparate range of issues.
Breaching barriers
However, as speakers took to the protest stage a small group broke away and managed to get across some razor wire.
For a moment things turned tense as riot police emerged from hedges and lined the fields.
A stand-off began and some of the younger protesters covered their faces.
In response, a senior police officer spoke over a loudhailer warning that anyone who crossed the next fence would be arrested for breaching the peace.
Rebellion flashed briefly in some eyes before one of the protest organisers entered the field to warn everyone that the buses were about to leave.
"You traitor," complained one of the group of campaigners.
"Would you just leave us here?"
In the end it was too much of a concern for he and the others to test.
They crossed back over the razor wire and boarded the bus just in time for home, leaving the police to retreat back behind hedges, their defences untested.