Kingsmills massacre: Apology over memorial letter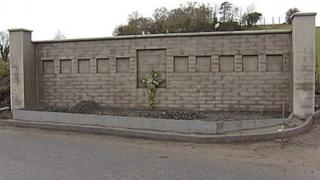 The environment minister has apologised after his department issued a letter demanding the removal of a memorial to IRA murder victims in County Armagh.
The memorial commemorates the Kingsmills massacre in 1976, in which 10 Protestant workmen were shot dead.
The Department of Environment sent a letter to the land owner saying it was going to take enforcement action.
But Alex Attwood said the letter should not have been sent and he wanted to apologise.
DUP MLA William Irwin said he had been angered by the letter and was seeking retrospective planning approval for the memorial.
He said there were 19 "illegal roadside terrorist memorials", five of which were in the Newry and Armagh constituency.
'Great offence'
"To date, the Department of Regional Development has not taken any action to remove the shrines to terrorism," he said.
"In that context, it is outrageous that a memorial to innocent victims who were brutally murdered by the IRA should have been targeted by the Planning Service."
Mr Irwin said the act had caused "great hurt and offence throughout the community".
He said that while no-one condoned planning laws being breached, it was a "very unique case and should be considered as such".
Mr Attwood told the BBC's Talkback programme that matters of the past "must be dealt with sensitively".
"When it comes to memorials, I make it very clear the matter should be referred to me," he said.
"That letter should not have been issued. How the Planning System went off and issued a letter is beyond me. I am not happy.
"I want the matter fully checked out. That letter has, clearly on my instruction, been withdrawn. I want to apologise... that a letter was issued."
Two survivors
The Kingsmills gun attack, on 5 January 1976, was one of the worst atrocities of the Troubles in Northern Ireland.
The textile factory workers were travelling in a minibus along the Whitecross to Bessbrook Road, in rural south Armagh, when their vehicle was ambushed by up to a dozen gunmen.
The only Catholic in the minibus was ordered to leave the area while 11 of his Protestant work colleagues were gunned down.
One man was shot 18 times, but survived the attack.
In 2011, an investigation by the Historical Enquiries Team (HET) concluded that the IRA was responsible for the atrocity and that victims had been targeted because of their religion.