Girl hurt in Short Strand petrol bomb attack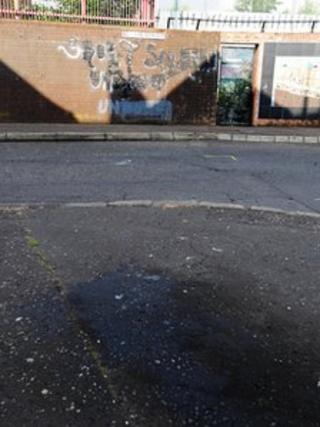 A young girl has been hurt after a petrol bomb attack in east Belfast.
The four-year-old suffered minor injuries in the attack, said a Sinn Féin councillor.
She was left "shaken and frightened by the experience" said Niall Ó Donnghaile.
Children were playing in Bryson Street in the nationalist Short Strand area when the device was believed to have been thrown over a wall separating the area from a loyalist one.
Mr Ó Donnghaile said: "There's no doubt that this could have been very, very serious.
"This happened in broad daylight in the middle of a sunny afternoon when kids are coming home from school and out playing in the street."
Tensions in the area are high after a petrol bomb was thrown from Short Strand into loyalist Cluan Place on Sunday 16 June.
A 15-year-old boy was subsequently arrested for arson.
There have also been reports of stones being thrown between different areas.
The police are investigating the latest petrol bomb attack and have appealed for calm after a number of young people gathered at the interface on Monday night.