Peter Robinson and Martin McGuinness to visit Japan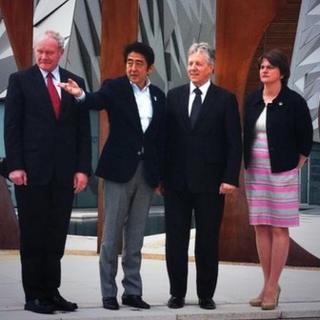 Northern Ireland's first and deputy first ministers are to visit Japan.
Peter Robinson and Martin McGuinness have accepted an invitation from the Japanese Prime Minister Shinzo Abe.
Mr Abe also hailed Northern Ireland as a "treasure trove of challenge, openness and innovation".
He was speaking at a reception at Titanic Belfast at the end of his visit to Northern Ireland for the G8 summit in County Fermanagh.
Mr Abe met Japanese businessmen working in Northern Ireland - his country's companies employ more than 2,000 in the region - after touring the Titanic visitor attraction.
"My administration's top priority is Japan's economic revitalisation," he said.
"Last week we announced Japan's revival strategy which laid out what I call comprehensive economic policies for economic revitalisation."
He added he is determined to support Japanese companies expanding overseas.
Investment
He said his key words were challenge, innovation and action.
He said Northern Ireland was a "treasure trove" of the virtues.
"I am very happy to see that this place is now grasping further opportunities for growth once again through taking new actions thanks to the progress in the peace process," he added.
"I would like to ask the government of Northern Ireland to continuously offer support to the companies of Japan," he said.
Mr Abe is the first Japanese prime minister to visit Belfast and he said he had high hopes Northern Ireland First Minister Peter Robinson and Deputy First Minister Martin McGuinness would travel to his country in the near future to invite further investment.
He drank a toast of Armagh apple and rhubarb punch with Mr Robinson and Mr McGuinness at the bottom of a replica of the grand staircase on the Titanic.
Earlier he saw sections of the Titanic visitors' centre and heard of its success during its first 15 months in operation.
The first minister accepted the invitation to visit Japan.
"It is an enormous pleasure for me to welcome the prime minister of Japan to the great city of Belfast and this visitor centre," said Mr Robinson.
"The prime minister of Japan has a special place in our hearts because he was the first of the G8 leaders to arrive and one of the last to leave so he is staying with us longer than other leaders have."