Nama provides £15m to finish Belfast buildings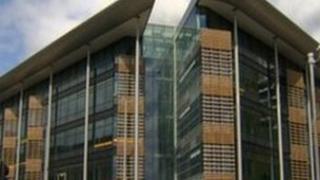 The Irish Republic's National Asset Management Agency is providing £15m to complete two office buildings in Belfast city centre.
The agency's chairman said it was part of a programme to enhance the value of its assets in Northern Ireland.
The money will finance the completion of Lanyon Plaza and the Soloist building at Lanyon Place.
Existing buildings in the area include the Waterfront Hall conference and entertainment venue.
Fund projects
Work on the two buildings had been on hold as a result of market conditions.
Mr Daly said the project will generate substantial employment during the construction and fit-out phase and that the two buildings, when fully occupied, will accommodate about 1,750 people.
"The agency is committed to providing more funding to debtors based in Northern Ireland in addition to the £123m we have already approved," he said.
"We would urge debtors to share their proposals with us, as we want to fund projects that can deliver a strong commercial return."
Mr Daly also said the agency has engaged with agencies such as Invest NI and professional and representative bodies, to make finance available for commercial property transactions in Northern Ireland.
Nama has also been talking to Invest NI about assets that could be suitable for industrial parks, he added.
Mr Daly said Nama had approved £87m in asset sales in Northern Ireland from its inception to the end of March 2013 and had announced plans to provide £9m for a 95-unit housing development in Millmount, Dundonald, close to Belfast.
"We have also sold a site in County Down for social housing and are working with the Northern Ireland Federation of Housing Associations and its members to assist with the social housing development Programme in Northern Ireland," he added.
Nama controls billions in problem property debts passed on by Irish banks,