Legal challenge on PSNI's 'unlawful' temporary staff contract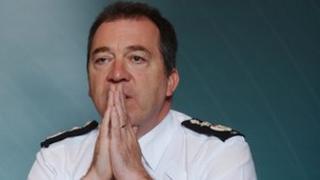 The Police Service of Northern Ireland (PSNI) is facing a legal challenge over plans to hire 900 temporary staff.
It was launched in the High Court on Wednesday by Northern Ireland's largest public sector union.
The Northern Ireland Public Service Alliance claims Chief Constable Matt Baggott acted unlawfully by authorising the recruitment of external contractors to provide support services.
The contract could be worth up to £180m.
A barrister acting for NIPSA said there was no legal basis for the contract, which was awarded to a company called Resource.
Frank O'Donoghue QC said the chief constable did not have the legal authority to award the contract, nor could he do so on behalf of the Policing Board.
He said there was no legal basis for the decision and asked the court to declare the contract unlawful.
The contract will run for an initial three years, but could be extended for another four, and opens the way for the PSNI to hire former Royal Ulster Constabulary (RUC) officers.
The PSNI says the contract makes commercial sense because it does not have to recruit full-time staff on a long-term basis.
The services provided will include:
guard duties at police stations
custody detention officers
close protection unit drivers
Mr O'Donoghue also represents the parents of Raymond McCord Jr, who was beaten to death by a UVF gang in November 1997.
Six years ago, the then Police Ombudsman, Nuala O'Loan, published a report which said some RUC officers had protected his killers.
Mr McCord's parents oppose the rehiring of former RUC officers on temporary contracts because of concerns that they may be involved in the investigation of killings where there are allegations of collusion with the police.
Limited role
Mr O'Donoghue quoted from an affidavit from PSNI Assistant Chief Constable Drew Harris that confirmed that two former RUC officers are involved in the new investigation into Mr McCord's death.
The court was told the police say the former officers were not involved in the original investigation, had not been members of RUC Special Branch, and are only playing a limited role in the current investigation.
Mr O'Donoghue then read an affidavit from Mr McCord's mother in which she said any involvement by any former RUC officers in the investigation into her son's death was unacceptable.
Both parties are seeking a judicial review of the chief constable's decisions to award the contracts.
The PSNI, which rejects the contention that Mr Baggott has acted outside the law, will set out its case on Thursday.