Senior police man says no reason for difficult NI marching season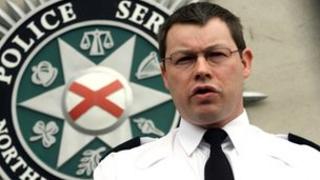 There is no reason to believe the forthcoming marching season will create difficulties, a senior PSNI officer has said.
Assistant Chief Constable Alastair Finlay said it was important NI's enhanced global reputation was not spoiled by local tribalism.
His remarks come ahead of a contentious Orange Order parade in Belfast.
The Order has described the Parades Commission's restrictions on Friday night's parade as "draconian".
Mr Finlay, who was responsible for the police's G8 security operations, said continuing dialogue would help the marching season to pass peacefully.
"I don't think we can predict that we will have a difficult marching season," Mr Finlay said.
"There has been lots of positivity and and dialogue. The talks have taken place in Cardiff and lots of different groups coming together.
"That dialogue is continuing so there isn't any reason why we will have a difficult marching season."
Earlier this month, the Orange Order issued guidelines for the conduct of marchers and bands at a series of parades past St Patrick's Church in Donegall Street, close to Belfast city centre.
They included restrictions on the type of music that could be played.
The Parades Commission meanwhile, placed its own restrictions on Friday night's annual Tour of the North parade by the Orange Order.
It included restrictions on the type of music and number of supporters.
The Orange Order said it was "disgusted" by the commission's ruling.
In a statement, the United Districts Committee said: "Many hours and days have been spent in genuine efforts to address the issue of respect as articulated by the clergy and parishioners of St. Patrick's Roman Catholic Church in Donegall Street in the wake of talks last year.
"However, the silence in response to the comprehensive template suggested by the Orange Institution is deafening."
On 12 July last year a loyalist band marched in a circle outside the church, playing a song perceived to be sectarian.
On 25 August bands defied a Parades Commission ruling to play only a single drum beat while marching past St Patrick's
Disturbances followed and several arrests were made.