Armagh observatory calculator light years from digital age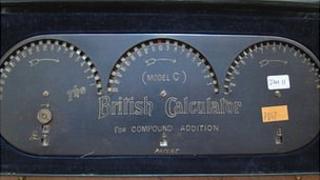 A rare early mechanical calculator has been discovered among the archives of the Armagh Observatory.
The Model C British Calculator, thought to have been used for the addition of pounds, shillings and pence, was found by archivist Thirza Mulder among material brought by the observatory at auction.
It was manufactured sometime between 1904 and 1915.
The device had belonged to Joseph Hardcastle, who was appointed director of Armagh observatory in 1916.
Mr Hardcastle, however, took ill and died on his way to the take up the post.
The calculator formed part of the Hardcastle material acquired by the observatory in December 2003.
Appeal
The observatory's John McFarland said they had not been able to find out much about the machine.
"It may possibly have been used in the US and brought back here," he said.
"We are trying to discover more and would appreciate it if anyone with information about this type of calculator would contact us."
If more information is forthcoming, the observatory would consider putting it on display to the public.
Joseph Hardcastle was the grandson of Sir John Frederick Herschel, the English astronomer, mathematician and chemist.
Hardcastle had earlier worked with S A Saunder on the number and accuracy of the measured positions on which the standard maps of the moon were based.
Saunder said the accuracy of this work was due to Hardcastle.