Photos suggest 'Merseyside police HQ dissident target'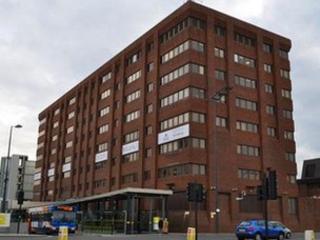 Photographs found during a probe into suspected dissident republican terrorism appear to show targeting of Merseyside police headquarters, the High Court in Belfast has heard.
Police also seized a deactivated sub-machine gun and explosives during searches of a husband and wife's home in Londonderry last week.
Details emerged as bail was granted to US woman Lesley Concannon.
The zumba dance teacher denies the charges.
Mrs Concannon, 32, faces charges of possessing high explosives with intent to endanger life, and having articles for use in terrorism.
She was arrested and charged along with her 39-year-old husband Kevin Barry Concannon, following police raids on their home at Beechwood Avenue, Derry, last week.
Searches were carried out as part of investigations into the discovery of four mortar bombs in March.
Opposing Mrs Concannon's bail application, a prosecution lawyer said police believe the couple are linked to dissident republican activity.
A laptop computer taken from the home led to the discovery of photographs taken earlier this year that appeared to depict a show of strength involving three masked men holding weapons and a gun.
'Anarchist's cookbook'
It was claimed that another 22 photographs appeared to show the targeting of Merseyside police headquarters.
The judge was told Mr Concannon admitted taking the pictures while in Liverpool with his wife last year, claiming he did so due to an interest in the building's size.
An illegal document known as the Anarchist's Cookbook was also recovered from the computer, according to the prosecution.
It provided detailed instructions on how to make explosives and set out the ingredients required.
More than 30,000 search entries were identified on the laptop, the court heard.
Requests included "Can I take gun magazine airplane" and "Legal to import gun airplane UK".
The explosives were found in a coal bunker at the rear of the house.
Two days later, police returned to the rented property and found a deactivated M56 sub-machine gun.
The court heard a set of new number plates and a coffee grinder box containing magnesium ribbon aluminium filings were located in a spare room.
It was also told documentation of alleged intelligence gathering on suspected drug dealers was discovered hidden in the sleeve of a child's DVD case.
Battery springs and tubing similar to that used in explosive projectiles were also seized.
Zumba dance instructor
Mrs Concannon denied any knowledge of the explosives or machine gun, or of having carried out the computer research.
She told police someone must have climbed over the wall and put the munitions in the coal bunker.
Her barrister rejected prosecution claims that she may flee if released, pointing out that she had returned to her home after police first searched it.
He told the court his client works as a zumba dance instructor, taking classes five days a week while her husband looks after their daughter.
Having obtained a degree in marketing at university in West Virginia, she moved to Northern Ireland and got married in 2011.
The lawyer said his client had no criminal record and said she knew "nothing about this activity".
Although he held that a prima facie case had been established, Mr Justice Stephens decided to grant bail on condition that £25,000 in cash sureties were lodged.
The judge ordered that passports for the accused and her daughter must be surrendered.
He banned her from leaving Northern Ireland and directed that she must report to police daily.
Ms Concannon was also prohibited from using any computers or mobile phone.
The judge added: "She is to keep a diary of her daily activities and any contacts she has, including dates and names, and make that diary available for inspection by police if required to do so."