Prime Minister to host NI investment conference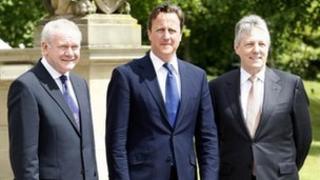 Titanic Belfast is to host Prime Minister David Cameron's investment conference for Northern Ireland in October.
The event, on 10 and 11 October, aims to help attract more jobs and business from overseas companies.
First Minister Peter Robinson said he was committed to showcasing Northern Ireland as a good place to invest, do business and visit.
"The investment conference will be an ideal opportunity to do so," he said.
"That the prime minister has committed to attend the conference and work through the various embassies to ensure that the highest and most appropriate business delegations attend, is a tremendous endorsement of the positive experience of hosting the G8 Summit."
Deputy First Minister Martin McGuinness said the G8 gave access to key decision makers and a positive international profile.
"For those leaders with which we already have good relationships, it was an opportunity to strengthen and deepen those bonds, whilst for others it was an opportunity for us to outline our potential and begin to explore opportunities for closer co-operation.
"All of the leaders showed a tremendous amount of enthusiasm and goodwill and we are determined to build on this and translate it into the investment and jobs that will support the rebalancing of our economy and underpin the building of a shared future for all our people."
David Cameron, Peter Robinson and Martin McGuinness said that they planned to host a conference as part of a economic package announcement last Friday.