Liam Neeson and James Nesbitt appeal over Disappeared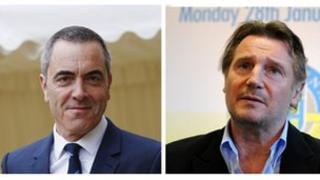 Actors Liam Neeson and James Nesbitt are backing an appeal by the families of the Disappeared for information that could lead to the recovery of the victims still not found.
The term refers to 17 people murdered and secretly buried by republican paramilitaries during the Troubles.
Since searches began, the bodies of 10 of the Disappeared have been recovered.
A further seven people have never been found.
They include west Belfast IRA man Joe Lynskey, Brendan Megraw from Twinbrook and SAS-trained officer Capt Robert Nairac.
The statement was issued to coincide with the launch of a new book The Disappeared Of Northern Ireland's Troubles that collates the personal stories of 14 of the families.
A day of reflection on the Troubles, and the future, is also being held on Friday, the longest day of the year.
"It is a day to reflect on the conflict in Northern Ireland and to acknowledge the deep hurt and pain caused," said Kate Turner, director of Healing Through Remembering.
"It is also a time to reflect on our attitudes with regards to what more we might have done and might now do, in order to bring about a peaceful new society."