Rape accused 'under death threat', court told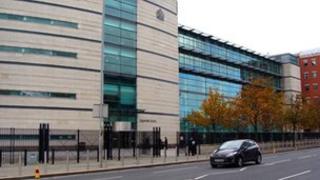 A man charged with raping a woman in Belfast can not be identified because he is under a death threat, a judge has ordered.
The 35-year-old is accused of carrying out the attack on Saturday.
He appeared at Belfast Magistrates' Court to face one count of rape.
A detective involved in the investigation said he believed he could connect him with the charge. The accused was remanded in custody.
Although bail was not sought, a defence lawyer applied for reporting restrictions to stop his client being named.
The lawyer said a death threat had been received that police were taking seriously.
District Judge Fiona Bagnall said that it was a high test to grant anonymity to defendants.
But she said on the basis of a "real and immediate threat" to the accused she banned publication of his name and address.
The accused was remanded in custody to appear again by video-link in two weeks time.