PSNI: Desertcreat training college 'still £18m over budget'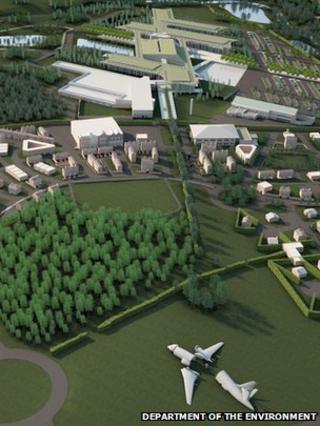 Northern Ireland's new police, fire and prison officers' training college is still £18m over budget, the project's chairwoman has told Stormont MLAs.
Construction work at the County Tyrone college is due to begin in October but it has been beset by problems.
At one stage, costs spiralled to £137m after a subcontractor to the design team underestimated costs by about 30%.
But PSNI DCC Judith Gillespie told MLAs that about £20m has been clawed back, leaving the current overspend at £18m.
Giving evidence to Stormont's justice committee, DCC Gillespie told MLAs the savings have been made by scaling back some of the original plans for the college.
'Professional incompetence'
She added that her project team had worked closely with those involved in making the changes and were "shocked and disappointed" that despite the changes, the construction still remained significantly over budget.
The training facility at Desertcreat, just outside Cookstown, will be shared by the police, fire and prison services.
In March, it was revealed "professional incompetence" by those involved in the design had led to the costs spiralling from £101m to £137m.
In her evidence, DCC Gillespie told MLAs that the design team had been paid £6m for their work.
The DUP's Jim Wells asked if there was any further payment owed to the design team.
"I think there is still £2m to £2.5m left to be paid," DCC Gillespie replied.
Mr Wells asked her for an assurance that "not a penny of that £2.5m will be paid to that company".
DCC Gillespie said that "would have to be the subject of legal advice".
'Jaw-dropping'
She later corrected herself, telling members that "an additional £4m is left to be paid to the design team".
Committee chairman Paul Givan of the DUP said he could "feel a collective jaw-dropping moment there".
Patsy McGlone of the SDLP asked DCC Gillespie: "Are you seriously considering paying the £4m to them?"
She replied that if the design team did not deliver on "key milestones" agreed in the contract then they would consider withholding payment, but this would be on legal advice.
Planning permission for construction work on the site was granted in January.
The 23,000 sq m facility will provide new teaching, training and residential facilities.
The project was first announced in 2004 and was originally due to be finished in 2008.
The original cost estimate at the time was £80m.