Paul Williamson accused of attacking paramedic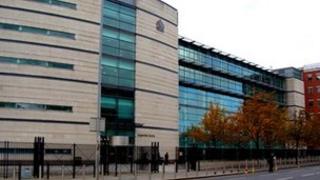 A teenager accused of brandishing a large kitchen knife at a paramedic had suffered a suspected drug overdose, Belfast Magistrates' Court has heard.
Paul Williamson allegedly wielded the blade after an ambulance crew was called out to the Ballyduff area of Newtownabbey, County Antrim.
He faces charges of having an offensive weapon with intent to commit an indictable offence and common assault.
The 18-year-old of Ravelston Way, Newtownabbey, denies the charges.
Mr Williamson is also accused of two counts of breaching an anti-social behaviour order by breaching a curfew and causing alarm and distress to the female paramedic he is accused of attacking.
The teenager was arrested following an incident at a house on Tuesday.
The court was told he denies the offences but has apologised if his actions inadvertently caused any fear.
Opposing bail, a police officer claimed the accused had been abusing alcohol and drugs.
"He's out of control, he just can't help himself," she added.
A prosecution lawyer told the court: "The reason the ambulance service were attending the house was to treat him for a suspected overdose."
But a defence solicitor said his client was entitled to refuse treatment.
He also said: "The assault is an apprehension assault. He didn't touch this lady."
The judge was told the accused's mother is a witness in the case, whose version of events may corroborate what her son claims happened at the house.
Despite acknowledging police concerns, the judge decided to grant bail.
Mr Williamson was ordered to report to police daily, and was subjected to a curfew and electronic monitoring.
Banning him from taking drink or illegal substances, the judge added: "He is to submit to drug tests."
The accused is due to appear again in court in four weeks' time.