Hidden problems and dangers of steroid abuse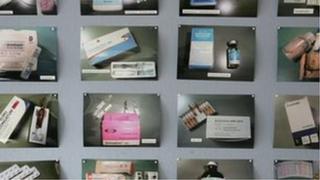 Young rugby players, some in their teens, are using anabolic steroids to bulk up, a doctor has told a Radio Ulster documentary.
The Ulster branch of the Irish Rugby Football Union says steroids are not an issue among its players, who are randomly tested for banned substances.
Londonderry GP Eamon Doohan said steroid use "can be an issue in rugby, particularly in younger players, guys in their late teens and early twenties who are looking to bulk up to get to the same level as a 35-year-old forward who's pushing them around in the scrum".
"That cohort of young men can be attracted to it. But it's infinitesimally small compared with the numbers who are involved in bodybuilding."
The claim was made in an investigation into the use of steroids in gyms in Northern Ireland.
The Chief Medical Officer Michael McBride says 1.4% of the population in Northern Ireland have admitted using steroids, but that the issue is under-reported.
"People who use anabolic steroids don't see themselves as having a health problem or a drug misuse problem," said Dr McBride.
"They don't routinely access those services that we provide for individuals who are using other drugs."
David Hanna is a personal trainer based in Belfast. He says some other personal trainers are supplying their clients with the drugs.
"You have to question these trainers as to why they're trying to talk their clients into taking steroids," he said.
"Obviously, they're not providing the proper training and the proper nutritional advice. It's basically cheating and a short-term fix."
David says there has been a major change in the type of people using steroids since he first started working in gyms 20 years ago.
"Back then the only sort of people who could get their hands on steroids were dodgy characters, paramilitary-type people," he said. "Whereas now it's vastly widespread, there are 17, 18-year-olds taking them."
Having steroids for personal use is not illegal, but anyone importing, selling or supplying the drugs to another person, without a prescription, is committing a criminal offence.
Dr Gareth Davison is an academic at the University of Ulster. He says there is a range of side-effects that can be experienced by anyone using steroids.
"They can change mood state; there is a chemical imbalance in the brain that can lead to irrational behaviour," said Dr Davison.
"Steroids can also cause quite severe acne, hair loss, left ventricular hypertrophy, which is an increase in the heart, kidney dysfunction and liver dysfunction.
"And then of course the ultimate side-effect is death. There have been a number of reports from across the body building world of steroid users who have died as a result of taking too much anabolic steroids over a prolonged period of time."
One competitive strength athlete and steroid user said he believed he could manage the risks to his health.
"I try to use in a very measured and progressive way as part of an overall programme," he said.
"I have my training component, my nutritional component, I have my supplementation component and then I have a steroid and chemical component.
"I don't use excessive dosages, I use what I need to achieve the results I want to get and I do it under a supervised manner. A lot of the side-effects have come to people because they're not using sensibly."
But Stevie Miller has another story to tell.
His weight went from 12 stone to 21 stone in a matter of months as he built a bigger physique using steroids.
But he began to suffer side-effects.
"My paranoia was becoming quite extreme," Stevie said.
"I actually got to the point where I didn't like people actually even looking at me."
Then one night at home, he passed out after pulling a blood clot out of his nose.
He began treatment for his problem and is now a drugs counsellor for the Forum for Action on Substance Abuse in west Belfast.
He has spoken about his experience in the hope others might come forward to organisations like his for help.
"Young people like the idea of getting big quickly, and looking good - but the truth is, I wasn't looking good," he said.
"I'm really lucky to be alive to tell my story."
Chemical Brothers is broadcast on Radio Ulster on Sunday 23 June at 13:30 BST and repeated on Thursday 27 June at 19:30 BST.