Other Voices show in Derry 'uplifting experience'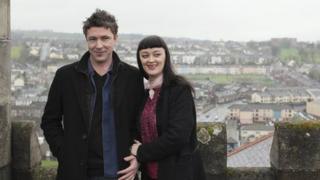 The executive producer of hit Irish music show Other Voices has said taking the show to Londonderry was "one of the most emotional and uplifting experiences" in his professional life.
To celebrate its 11th anniversary in February, Other Voices left its home town of Dingle, County Kerry, and took to the road, included a stopover in the 2013 UK City of Culture, Derry.
A number of performances were recorded at the city's Glassworks venue.
Executive producer Philip King said a number of people had travelled from Derry to Dingle to invite the show to the north west.
"We thought it was an appropriate invitation to accept," he said.
"I knew quite a bit about music in Derry, from pure traditional music to rock and roll.
"We're on the south west coast of Ireland and Derry is in the north west and I thought there was a line of longitude that sort of connected us in an abstract way and it would be very nice to see if we could connect north and south in that way."
Mr King said it had been a fantastic experience.
"The singular most important and uplifting thing for me was the amount of young musicians who came to the city to play in bars, all connected by wonderful technology - connected to the Glassworks," he said.
"To see all that happening and to hear all those new songs, those bright interesting new voices, was fantastic.
"We had a crew of about 85 people, many of them hardened professionals on the road for a long time, and they said this is the best thing we ever done."
He said Derry was a city which had a great and varied musical tradition.
"The first and most important tradition is that people will sing at the drop of a hat - weddings, wakes, football matches, in the pub, on the stage, off the stage, behind the stage, they'll sing and sing very well," Mr King said.
"I've always referred to Derry as a singing city, I call it the singing city of Derry.
"All of the musicians who came there, the ones who came from abroad, they all left Derry saying this is a remarkable place. I think they brought that message to the world, to their fans and followers.
"When the people from Derry came to visit me in Dingle and said 'will you take this Other Voices thing to Derry?' they said we want you to make the city visible in the way that you've made Dingle visible in the world and I think we've done that."
Among the acts who performed for the show were Laura Mvula, Laura Marling, Villagers, John Grant, Dexys, Neil Hannon, Beth Orton, Marina & The Diamonds, Damien Dempsey and Bronagh Gallagher and rising stars Soak, Savages, Palma Violets and new artists Katherine Philippa, Little Bear, Our Krypton Son, Ryan Vail and Best Boy Grip.
Asked whether he would like to bring the show back to the maiden city, Mr King replied: "That's an emphatic, 100% yes."
For the first time, four episodes of the programme will be broadcast on BBC Two Northern Ireland.
They will be hosted by Derry actress Bronagh Gallagher and Game of Thrones star Aiden Gillen.
The first episode in the series is on BBC Two Northern Ireland on Thursday, 27 June at 10.00pm