Illegal workers arrested at Belfast takeaway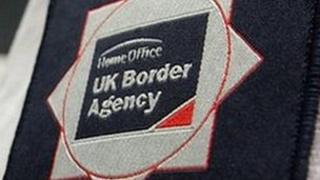 Two foreign nationals are facing deportation after being arrested by immigration enforcement officers at a takeaway in south Belfast.
Officers visited Ali's Kebab House at Kingsway on Thursday night to check the immigration status of its workers.
A 25-year-old Indian man and 73-year-old Pakistani man were arrested after it was discovered they were working illegally.
Both are being held in Home Office detention in Larne, County Antrim.
The business has been served with a penalty notice for employing the illegal workers.
"Foreign nationals who are in this country illegally should be in no doubt that they will be caught, arrested and removed from the UK," Mike Golden of the UK Border Agency, said.
"We are determined to crack down on immigration offenders and anyone found living or working here illegally is liable to be detained and removed."