Alex Attwood opposes economic 'planning zone' proposal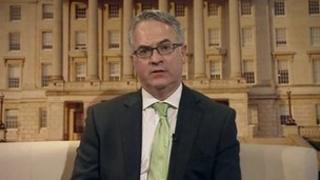 Environment Minister Alex Attwood has strongly opposed a plan by the DUP and Sinn Fein to create new economically significant planning zones in NI.
The zones would be administered by the Office of the First and Deputy First Minister (OFMDFM).
In effect, it would mean Peter Robinson and Martin McGuinness would be in charge of planning in certain areas, rather than Mr Attwood.
Mr Attwood said he would not support the proposed changes to planning law.
The SDLP member added that he did not think OFMDFM should act as a "planning authority".
The economic zones are due to be debated as part of proposed amendments to Mr Attwood's forthcoming planning bill, due before the Stormont assembly on Monday.
Legal challenges
BBC Northern Ireland's political editor, Mark Devenport, said: "This follows on from one clause in the economic pact agreed between Downing Street and the executive, which talked about the executive establishing a new process for economically significant planning applications."
The clause also makes reference to the executive "making new arrangements in relation to applications for judicial review of planning decisions".
The DUP and Sinn Fein have both signed up to an amendment that would create economically significant planning zones, within which planning permission "may be unconditional, or subject to various conditions, specified in a scheme drawn up by OFMDFM".
The proposed changes to planning law follow a number of high profile legal challenges, or judicial reviews, of controversial planning decisions.
'Frustration'
But the environment minister said he believes aspects of the DUP/Sinn Fein amendments could run foul of European law.
"I will not, as the planning minister, as the environment minster, sponsor or support these amendments because, in my view, we do not need OFMDFM to be a planning authority.
"We do not need further frustration of judicial reviews, even though judicial reviews need to change in the future in some ways," Mr Attwood said.
He added: "This is not good law, this is not good policy. I don't think it would be good for planning."