GMB strike disrupts Northern Ireland train services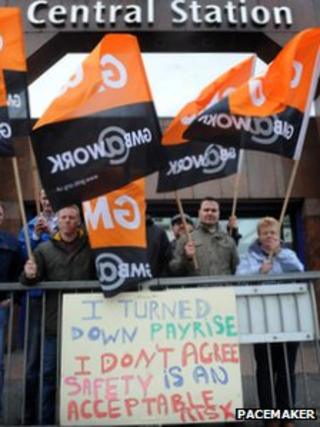 A 24-hour strike by railway staff is under way across Northern Ireland.
Up to two thirds of train services are disrupted with the exception of the Enterprise service to and from Dublin
Translink is running an hourly service throughout the day, with more trains available at peak times.
The strike by the GMB union is over working conditions linked to the latest pay deal. Bus and coach services will not be affected.
Translink's Ciaran Rogan said: "We will be running train services, so people can turn up at stations and get a train service, but also look for the local bus services as well because they're running a full schedule.
"We would recognise passengers with weekly or monthly tickets or period passes - we will refund people, we'll give them an extra day when they're renewing their tickets. When they bring it in we'll look after that."
The industrial action follows the union's rejection of a pay settlement accepted by the vast majority of Translink's 3,700 staff.
Anyone with any queries can ring 028 90666630 or check the Translink website.