BBC Proms In the Park returns to Titanic Slipway in Belfast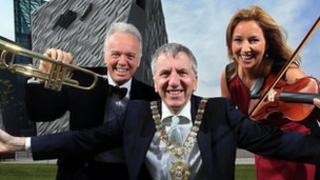 Details have been announced of this year's BBC Proms in the Park in Northern Ireland at the Titanic Slipway in Belfast.
The concert on Saturday, 7 September, will feature the Ulster Orchestra under conductor David Brophy.
There will also be a number of guest artists in a programme of classical and contemporary music.
The event will be hosted by Noel Thompson and Claire McCollum.
BBC Proms in the Park in Northern Ireland will include traditional elements of the Last Night of the Proms. Organisers said this would include a big screen, "great music and a party atmosphere".
A selection of television viewing options will be available live on the night via the red button for digital TV viewers and the concert will also be broadcast live online.
The concert will be live on BBC Radio Ulster, presented by John Toal.
Highlights of Proms in the Park in Northern Ireland will be carried on the BBC television networks. The event will be recorded for broadcast later in the year.
Peter Johnston, director BBC Northern Ireland, said: "Following on from the success of last year we are very excited to bring the 2013 BBC Proms in the Park in Northern Ireland back again to Belfast and to the Titanic Slipways.
"This event is one of the most prestigious and large-scale events we undertake each year and music lovers can be assured of a very special evening of music and celebration from an eclectic line-up of local and international talent - all set against the stunning backdrop of the Titanic Signature building."
The event is supported by Belfast City Council.
Cultural activities
Lord Mayor of Belfast Máirtín Ó Muilleoir said the council was delighted to see "the local aspect of BBC Proms in the Park stay in Belfast this year".
"This iconic event will, yet again, take place with the stunning backdrop of Titanic Belfast," he said.
"As with previous Proms concerts, it will be a night to remember and will add to Belfast's portfolio of major showcase cultural activities - bringing additional economic activity and media attention to my home city."
Tickets to BBC Northern Ireland's Proms in the Park event are complimentary and will be allocated following a random draw.
Ticket applications can be made from Monday, 24 June at 09:00 BST until Monday, 15 July at 17:00 BST.
A maximum of four tickets will be allocated per household address.
You can apply for tickets online at BBC Tickets.
More information is available at the BBC Proms in the Park website at BBC Proms In The Park.