Peter Robinson says Gerry Kelly was 'reckless' during Land Rover incident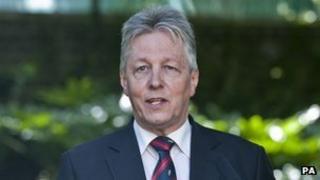 Northern Ireland First Minister Peter Robinson has said Gerry Kelly was "reckless" during an incident in which the Sinn Féin MLA was carried on the front of a police Land Rover.
The incident followed the loyalist Tour of the North parade in Belfast on Friday evening.
Sinn Féin said Culture Minister Carál Ní Chuilín was hit by the Land Rover and attended hospital.
Mr Robinson said Mr Kelly had set a "bad example".
"I think that anybody that views the video evidence will consider him to have been reckless and ill-advised," the DUP minister said.
"No-one should interfere with the police during the conduct of their duties.
"Being an elected representative and even being a member of the policing board does not afford him any role in the operation of the police or giving police instructions on the site.
"He seemed to behave in such a way as he felt he had the authority to instruct the police to stop and to deal with them.
"Anyone who has any misgivings about the police handling issue, if they are an elected representative there is a proper process to go through and that doesn't include blocking the police in the execution of their duty.
"That's a bad example to set and I hope it won't have a bearing on the rest of the parading season."
Mr Kelly has told the BBC he was there to "calm the situation".
Earlier on Monday, the incident involving Mr Kelly was raised in the Northern Ireland Assembly.
DUP MLA Gregory Campbell said the assembly should check what it could do to investigate Friday night's incident.
He described it as appearing to be the "attempted physical impeding of a police officer carrying out his duty".
The TUV leader Jim Allister accused Mr Kelly of "loutish" behaviour.
The Speaker, Willie Hay, said he had already turned down discussing the matter in a short topical debate.
He said if there were further procedural matters, MLAs should refer to either the business or standards and privileges committees.
Elsewhere, an SDLP MLA said he was very concerned for Mr Kelly during the incident.
Alban Maginness said he thought Mr Kelly could have been seriously injured.
He said it was a "very ugly situation" that had the potential for serious disorder.
Mr Maginness, who witnessed the incident, said Mr Kelly was not trying to obstruct police.