Randox to supply blood analysers in Saudi Arabia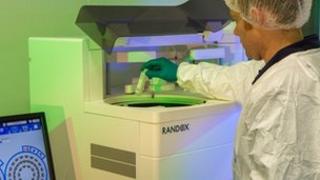 A County Antrim company has secured a multi-million pound deal with the Saudi Arabian government.
The medical diagnostics firm, Randox Laboratories, is to supply equipment to the Saudi ministry of health.
The deal, worth at least £6m over the next five years, will result in the delivery of 50 blood analysers to hospitals this year, with the potential for further orders.
Installation of the RX Daytona Plus analysers is already under way.
Dr Peter Fitzgerald, managing director at Crumlin-based Randox, said the deal would allow for further re-investment in the business.
"With the G8 summit last week, there is emphasis on promoting Northern Ireland as a centre of innovation, as open for business. The success of Randox in Saudi Arabia is proof of this," he said.
"Randox technology developed in County Antrim is recognised across the globe as revolutionary; of the highest quality; helping save lives every day; the deal with the Saudi ministry of health is further recognition of the quality of our products."
The Saudi ministry of health has also agreed to purchase Randox reagents, the chemicals used in laboratory analysis, to run on the RX Daytona Plus analysers.
It will generate business for Randox, worth about £1m a year.
Graeme McNeill, global manager for Randox RX series analysers, said: "Randox analysers are used in every corner of the globe, from the veterinary laboratories at Kruger National Park in South Africa, to the heart of research at Harvard University."