180 hospital beds to be lost across Northern Ireland by 2017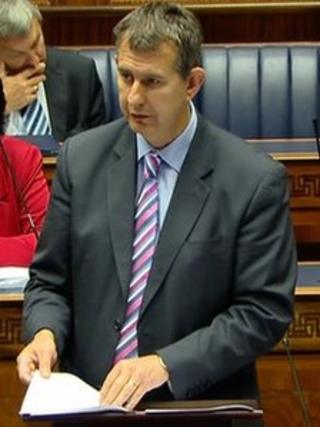 The health minister has confirmed that 180 hospital beds will be lost across Northern Ireland by 2017.
In an assembly ministerial statement, Edwin Poots said it was necessary in order to shift resources from hospitals to providing care in the community.
Mr Poots described the reduction of hospital beds as one of the "practical out-workings" of the Transforming Your Care (TYC) health reform programme.
He said the reforms would ensure a sustainable future health service.
The minister's update on the progress of the TYC programme covered a wide range of changes foreseen by the 2011 policy document.
This included the new health and care centres, acute services, waiting times for consultant appointments, residential care for the elderly, and technological developments in "e-health".
The TYC programme was launched a number of years ago, in recognition that people in Northern Ireland are living longer and therefore, will make a greater demand on local health services in the coming years.
Mr Poots told MLAs that to date, £139m worth of "saving opportunities" had been identified through TYC.
He added that those funds were being "retargeted to those areas in health and social care where priority is greatest".
Mr Poots said that a "significant funding gap" remained.
The minister told MLAs: "We have a growing and ageing population, a growth in chronic conditions, a growth in demand, and an over-reliance on hospital beds.
"All of this is set against a backdrop of economic and financial constraint. Given the challenges ahead, the way we work now is not going to work well in the future."
Mr Poots added that the reduction in the number of hospital beds could not take place in a "vacuum".
"In particular, it must take place with full and transparent engagement with patients and service users so that we know what is changing, when it is changing and why it is changing," he said.
Addressing the provision of acute services, Mr Poots told MLAs that GPs can arrange for ill patients to be admitted to hospital directly, avoiding the need for vulnerable patients to be admitted through emergency departments.
He said the five Northern Ireland health trusts, including the ambulance service, were working to "avoid unnecessary hospital stays".