Northern Ireland prisoner wins temporary release case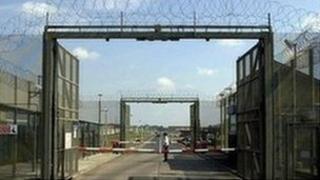 A life-sentence prisoner has won his High Court battle over being denied a further temporary release for allegedly returning to jail drunk.
Convicted robber James Clyde Reilly's challenge was conceded by the Northern Ireland Prison Service ahead of a planned High Court hearing.
His lawyer said the Prison Service had failed to ensure procedural fairness.
The lawyer said Reilly should have been breathalysed to confirm no drink had been taken.
Reilly, 45, is serving out a discretionary life sentence at HMP Maghaberry for robbery, attempted robbery and possession of an imitation firearm, offences committed in London.
With his tariff set at six years and eight months, he was transferred to Northern Ireland in 2007.
'Smelling of drink'
As part of an ongoing process to decide when he can be freed he was subject to a series of unaccompanied temporary releases (UTRs).
In January he was let out, only to return smelling of drink.
Reilly claimed there had been a mishap in the car taking him back to prison, with another passenger opening a tin of beer that fizzed up over his coat and hair.
According to papers in the case, a duty governor decided he had been drinking and refused to give him an opportunity to explain.
He was strip-searched, subjected to a drugs test procedure, held in isolation and treated as someone who had breached the terms of his UTR, it was claimed.
Reilly's lawyers argued that he should have been breathalysed to confirm no drink had been taken.
A judicial review challenge of the decision to then refuse him a UTR in February was due to get under way in court.
'Failed'
But instead Mr Justice Treacy was informed a settlement had been reached in the case.
The judge agreed to the resolution, which is understood to include Reilly's legal bill being paid.
Following the outcome his solicitor claimed the prison service had failed to ensure procedural fairness for Reilly.
"They proceeded to find Mr Reilly was drunk when in fact they refused to permit him an opportunity to explain the circumstances," he said.
"Mr Reilly should not have been forced to bring this case to the High Court because of the failings of the governor," he added.
"It is regrettable that some five months have passed since the alleged incident without any progress in our client's pre-release plan.
"The prison service have conceded this case only on the eve of the hearing, causing an increased burden on the taxpayer."