NI tourism campaign generates £42m, says report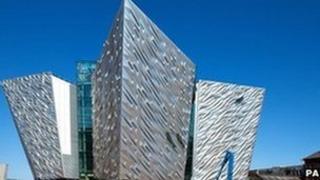 The 2012 tourism campaign Our Time, Our Place cost £11.2m but was worth almost four times that to the Northern Ireland economy, a report has said.
It said the overall tourism benefit was £42.2m, including money spent by local people and overseas tourists.
The Northern Ireland Tourist Board commissioned the independent study.
Last year was a key year for the tourism industry because of the centenary of the Titanic.
The signature Our Time, Our Place campaign included global marketing, and paying to stage big events such as the Irish Open golf tournament, the MTV awards and concerts.
'Surpassed objectives'
The tourist board said the campaign had attracted one million visitors, including 350,000 from outside the British Isles.
The chief executive of the Northern Ireland Tourist Board, Alan Clarke, said the campaign had surpassed all its objectives and targets.
"Our Time, Our Place allowed the government and tourism industry to pull together like never before, with inspiring results," he said.
"It has moved us to a new level domestically and internationally."
The publication of the government's official tourism figures for 2012 have been delayed, but for the first nine months of last year recorded a 12% drop in visitor numbers compared to 2011.
The decline was most noticeable in visitors from mainland Europe and Great Britain.
The Republic of Ireland compiled its own statistics that showed that trips by visitors to the north increased by 60,000 in 2012 to 430,000.